Working in Real Estate FAQ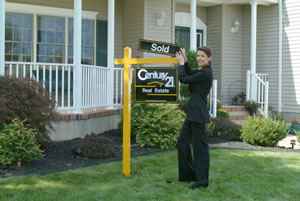 What does a CENTURY 21 Sales Associate do?
A CENTURY 21 Sales Associate is a respected, licensed professional who provides clients with valuable advice and guidance in the often complex and sometimes emotional process of purchasing or selling a home or property. A Sales Associate plays a very important role in the real estate transaction process and responsibilities may include showcasing homes, gaining new customer relationships, helping buyers and sellers come to agreements, offering expertise in home selection and local market knowledge, negotiating, and guidance in the closing transaction. In addition, CENTURY 21 sales professionals provide ongoing guidance and support to home owners.
Why choose the CENTURY 21® System?
The CENTURY 21® System is more than the most recognized name in real estate¹. It is an entire system of professional tools and unparalleled support that puts CENTURY 21 Sales Associates at the top of the industry. The unwavering dedication of CENTURY 21 Sales Associates and their commitment to serving customers to the best of their ability creates an atmosphere of success and pride found only in the best organizations. When you join the CENTURY 21® System, you will take your place in a heritage of success with a support team committed to your achievements!
How much can I expect to earn?
As a CENTURY 21® Sales Associate, the opportunities for rewards can be great. Typically you can earn based on your performance and compensation may vary within each local broker's office. Plus, youll have the training and resources of the CENTURY 21® System at your disposal. For more than 30 years, weve been helping our real estate professionals maximize their career potential!
How will I find clients?
The CENTURY 21® Systems award-winning Intranet, 21online.com, provides numerous online and off line tools to help in prospecting for new clients, maintaining a contact list and building relationships with clients. Every member of the CENTURY® 21 System has access to the resources of 21online.com, as well as the guidance and mentoring of their local broker.
Can I set my own routine?
Generally, you can enjoy a varied schedule, spending time out in the community with clients, and also meeting and working with colleagues from a CENTURY 21 local brokers office. As a CENTURY 21 Sales Associate, you can often build a schedule that fits your lifestyle!
How long will it take me to get established as a CENTURY 21 Sales Associate?
Individual success varies, but the CENTURY 21® Systems platform of education and ongoing career support helps you get on the fast track to real estate career success. With your ambition and the high visibility of the CENTURY 21 brand, you are on your way to great personal and professional growth.
How do I get started?
It's easy to get started as a CENTURY 21 Sales Associate, take the first step.
Fill in the required fields, and your information will be forwarded to your local CENTURY 21 broker. If job opportunities are available in your community and you are qualified, a CENTURY 21 broker will contact you directly. Its that easy!
Are there any non-sales related positions available with the CENTURY 21® System?
If sales positions are not right for you but you still want to be part of the energetic CENTURY 21® System, individual offices may have needs for staff positions typically administrative or even managerial. It's easy to take the first step.
1 Source: 2005 Ad Tracking Study. This survey included 1200 telephone interviews (via computer assisted program) with a national random sample of adults (ages 25-54) who have either bought or sold a home within the past two years or plan to purchase or sell a home within the next two years. A sample size of 1200 was utilized for seen or heard of/brand awareness questions. The 90% confidence interval for the results is +/- 4.1% for the 1200 base size. The study was conducted between February 6 - September 3, 2005 by Millward Brown, a leading research agency.